The Triptych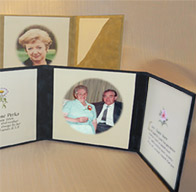 We have taken inspiration from the medieval art form Triptych to give you a way to celebrate loved ones and record special events.
Triptych features
A bi-fold folder in quality faux suede.
A choice of colour:Tomate, Dune, Forest, Taupe and Navy.
A digitally reproduced and, if required cropped & enhanced, photograph.
An illuminated inscription or poem.
An optional memento pocket to retain small keepsakes OR an additional inscription/poem or photo panel.
Versatile layout

Approx: 165mm x 460mm when open
Approx: 165mm x 155mm when closed
Please see the slideshow to the left for examples of some of the many hand painted illustrations available.
Unfortunately portrait paintings are not available in individual cards and books.
Please enquire for details and we will be happy to help.
Search
Information
VAT is charged at the current rate of 20%
Leaflet Downloads
Open a pdf leaflet to print and browse at your leisure.

Adobe Reader download here
Social Media