Cabinets
Display your treasures in beautifully crafted cabinets made using the traditional skills of the cabinet maker combined with the latest fibre optic technology to provide soft, indirect illumination of precious artefacts within a protected environment.
The cabinet designers at Hilton Studio have a wealth of experience and knowledge. For more than 40 years we have been leaders in the production of hand crafted display cabinets, display cases, wood panelling, counters, storage units, and office and chapel furniture. All projects are of a bespoke design and every commission is given the same careful consideration and attention to detail.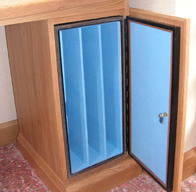 solid and veneered timbers
cherry, walnut, light oak and beech from sustainable sources
laminate, toughened and non-reflective safety glazing
access for disabled people
fire and vandal resistant book storage
high security locks
Over the years we have extended our portfolio to include a variety of other display cabinets and storage units. Hilton Studio are also able to manufacture a wide variety of book room and chapel furniture and office architecture, such as catafalques, coffin trestles, secure dehumidifier housings and framing for commemorative plaque schemes.
Please click for more information.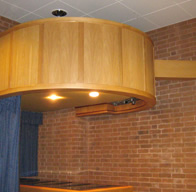 Chapel furniture and architecture
Supplied in direct response to customer requirements over the past 40 years and blending in with our production of high quality display cabinets, Hilton Studio offers office, book room and chapel furniture and architecture. To date installations have included timber wall panelling, catafalques, curtain pelmets, modesty panels, lecterns, altar pieces and seating.
Search
Bespoke designs
The cabinet designers at Hilton Studio have a wealth of experience and knowledge. For more than 40 years we have been leaders in the production of hand crafted display cabinets, wood panelling, counters, storage units, and book room and office furnishings. All projects are of a bespoke design and every commission is given the same careful consideration and attention to detail
Social Media