Blocking & Tooling
The bookbinders of Hilton Studio have an expert knowledge of the traditional methods and materials of their craft, they excel in the finishing touches.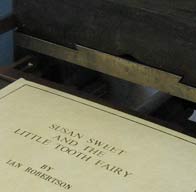 Machine Blocking
Books, cards, stationery can be blocked using traditional presses. This method is ideal for small or large quantites.
We can produce a metal block for blocking onto covers, cards etc from your own artwork/designs.
Hand Tooling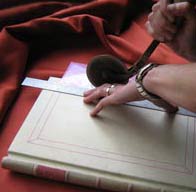 This is a more versatile but also more time consuming, blocking method. It is ideal for bespoke items. This is not limited to books and card covers, a wide variety of items can hand tooled by our expert bookbinders.
Previous Projects:
Decorative edged leather elevator roof panels
Decorative edged leather desktop inlays
Decorative writing bureaux
Foil colours
Foil used to block/tool your item is available in a variety of colours. In addition to our standard range of colours others colours may be ordered upon request.
Search
Exquisite work
Our uncompromising dedication to quality combines the very best calligraphy, gold gilding, illustration, heraldic art and Bookbinding using the finest vellums and papers to create exquisite, hand made one-offs as well as large quantities, produced by high quality printers.
Social Media