Bookbinding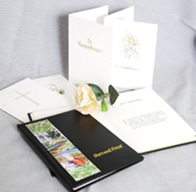 We offer a complete package of traditional binding services. All our products are handmade by our expert bookbinders, who collectively between the 3, have over 100 years experience working at the studio.
We do not use any form of machine binding in our products,they are hand-bound and designed to last for many generations to come, unlike many of the cheaper machine made products widely available elsewhere online.
Please see a full list of our many Bookbinding Products here.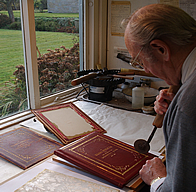 We also carry a range of stock items such as Books & Cards, Presentation Boxes and Books of Remembrance. However, we are designers at heart and always strive to fulfil our clients' individual requests. If you can't find what you are looking for, please contact us, as individual commissions are always welcome.
Please contact us for a free no obligation estimate. From our Lichfield premises we take on work from across the UK, Europe and worldwide.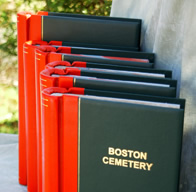 Restoration and Repair
We've been repairing and restoring old and valuable books for over 50 years. Assessing each book individually, we can advise on the most accepted and trusted conservation techniques, offering the perfect balance of the aesthetic with the highest professional standards.
Click for more information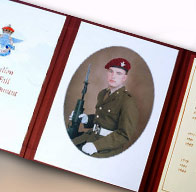 Military Commissions
For more than 50 years Hilton Studio has been the leader in the field of producing bespoke, handmade commemorative books and binders, inscribed and illustrated by craftspeople using traditional methods of bookbinding, calligraphy and illumination. With employees from each branch of the armed forces it became inevitable that we would be commissioned to produce works for each and previous clients include HMS Superb, The Queens Lancs, The Supermarine Spitfire, The Royal Army Medical Corps 202 Field Reg and HMS Forward. Our varied range of commemorative books in this area ranges from special VIP visitors books, regimental/corps histories, regimental battle honours and regimental books of remembrance.
Click for more information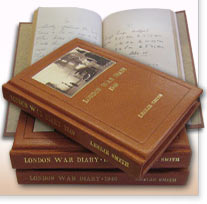 Private Commissions
Our handmade and inscribed presentation books, created by craftspeople using traditional skills and the finest quality materials, offer a unique and sophisticated gift. Our comprehensive range of products includes beautifully bound books for weddings, anniversaries, personal achievements, retirements, books of remembrance, family history and life books. Our commissions include the personal and career biography of Sir Adrian Cadbury, Bamfords family tree and requests from Barclays and Premiership football clubs.
Contact us
for more information.