Loose Leaf Books/Binders
Loose Leaf Books are handmade and feature loose leaves of punched parchment with a linen edge. They have brass screw posts for mounting pages, which are hidden under a cover matching, central strip.
They enable you to add or remove pages, so are idea for:
Up-datable family histories
Photo albums
Condolences
Rolls of Honour
Storage of flat bed display panel sheets
Various Genuine Leather Colours Available: Swatch
Depending upon your specification they may be available without the linen edge if you wish to print on the sheets with your own home printer.
Our larger books (inc. bound books) are available with an optional bespoke wooden centrepiece for displaying the books open in a glass top cabinet (cabinets available here).
Smaller books can be displayed on a book stand (available here). Please see & interact with the slide show to the left featuring a few of our previous loose leaf books.
Price: £POA
Bonded Leather
We now have an economical alternative to our genuine leather books. Bonded/reconstituted genuine leather has the same look and smell of genuine leather without the expense. Bonded leather available in Claret, Royal Blue, Navy, Burgundy, Black, Pine & Cuero colours.
A Bonded Leather Loose-Leaf Post Binder. The loose leaf design allows pages to be added and removed. Bespoke versions available in addition to this standard specification.
Loose-Leaf Design
Includes 92 Blank 120gsm Goatskin Parchment Leaves (up to 2" Capacity - 160 leaves) with Creased Hinges
Bonded Leather Covering
Gold Blocking to Front
Dimensions w280mm x h205mm
£285+VAT
£20+VAT Delivery, Collection Available
Fully bound, sewn variant available here
Please contact us for further information.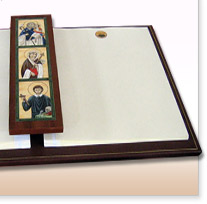 Flat Bed Display Panels
Loose leaf binders are often supplied along with flat bed display panels for storage of the leaves when not displayed on the panel. The panels are handmade in leather and can be tooled with a title of your choice. They have brass screw posts for mounting pages, which are hidden under a wooden centrepiece.
Search
Information
Online ordering available soon. For now please enquire for details and we will be happy to help.
VAT is charged at the current rate of 20%
Leaflet Downloads
Open a pdf leaflet to print and browse at your leisure.

Adobe Reader download here
Social Media