Products
Personal Memorials
Hilton Studios realise that as requirements change it is important to our clients that we keep abreast of these changes and adjust our products accordingly.
We are constantly adding to our product range, please check back regularly for new product launches.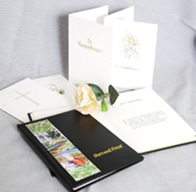 We at Hilton Studio believe society's attitude towards death and memorialisation is changing, the trend is to celebrate the life of a loved one instead of marking their passing. Therefore we have compiled a new range of clean lined, modern memorials which provide a bespoke, personal dedication.
Click for more information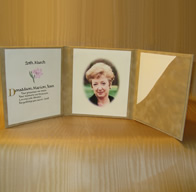 We have taken inspiration from the medieval art form Triptych to give bereaved families, governing bodies and businesses a new way to remember their loved ones, or record special events and celebrations. The modern form offered is a bi-fold memorial folder in quality book cloth or smooth leather, which carries a digitally reproduced photograph, an illuminated inscription or poem, or alternatively, one panel may contain a memento pocket to retain small keepsakes.
Click for more information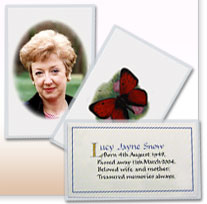 A new handmade portable pocket memorial product. This small pocket sized card allows you to keep that special memory with you at all times. Available laminated or in a small presentation folder
Click for more information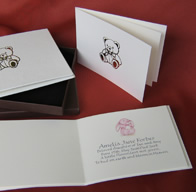 Our miniature books and cards provide permanent and personal memorials and these can complement our Books of Remembrance or be used as a stand-alone memorial in their own right. All are presented in hand finished presentation boxes. Our existing customers include: bereavement support groups, churches, crematoria, hospitals and NHS Trusts.
Click for more information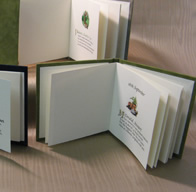 Our bespoke miniature books can be supplied with a hand painted portrait of the deceased pet or reproduction of a supplied photograph and are made to the same high standards as our larger remembrance books.
Click for more information
Search
Prestigious clients
Presentations of our scrolls have been made to many leading British figures including Sir John Paul Getty, distinguished conductor Sir Simon Rattle, yachtswoman Lisa Clayton, footballing legend Brian Clough and former speaker of the House of Commons, Betty Boothroyd, to name but a few.
Information
VAT is charged at the current rate of 20%
Social Media