Pet Memorials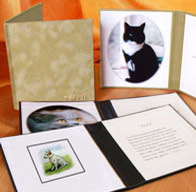 Personal Memorials
Hilton Studio supply a miniature folder for a personal memorial of a beloved pet.
The folder is available handmade in a choice of 5 faux suede covers: Tomate, Dune, Taupe, Forest and Navy. The folder cover can be personalised with your pets name handtooled in gold.
Each folder measures 200mm high x 140mm wide when closed and is supplied in its own presentation box.
Each folder is handmade and can feature:
A hand calligraphed epitaph, verse or poem
A gold gilded or coloured initial letter
A miniature hand painted portrait
A digital reproduction of your pets photograph.
Also available as a Triptych
Please see the slide show to the left for samples of the many miniature pet illustrations faithfully reproduced by Hilton Studio artists.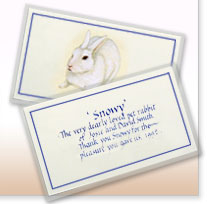 Pocket Pet Cards
Designed specifically with portability in mind, the small pocket memorial card allows you to keep special memories close at hand. Hand written in calligraphy with a photograph or hand painted illustration by highly skilled calligraphers and artists.
Featuring
Hand Written Inscription with a maximum of 8 lines of calligraphy
Name line 20 Characters Maximum (inc. spaces)
Text lines 32 Characters Maximum (inc. spaces)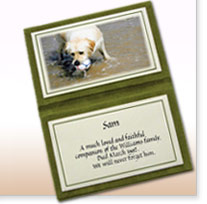 The card is available in 2 versions:
The Standard Card:

Small enough to keep in a wallet, purse or handbag
Laminated for protection.
Digitally Reproduced Photograph OR Hand Painted Illustration on the reverse of the card.
Size approx 80mm x 135mm.
The Deluxe Card:

Beautiful hardback faux suede cover
Colours:Tomate, Dune, Forest, Taupe, Navy other colours may be available upon request for example Tundra (pale green) and Tan.
Digitally Reproduced Photograph OR Hand Painted Illustration on 1 card.
Size approx 145mm x 95mm x 10mm (when closed)
Please enquire for details and we will be happy to help.
Please see our other pocket memorials here
Search
Information
VAT is charged at the current rate of 20%
Leaflet Downloads
Open a pdf leaflet to print and browse at your leisure.

Adobe Reader download here
Social Media