Life Celebration Book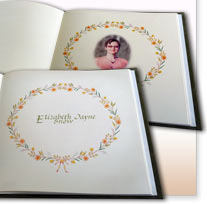 A small book to share precious memories at special occasions and events.
16 memory pages for guests to fill in, be it their thoughts & memories, doodles and/or cuttings to be cherished for years to come. Ideal uses include but are not limited to:
Birthdays
Retirements
Anniversaries
Leaving Events
Funerals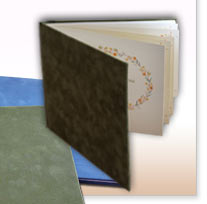 A Lasting Memory
Unlike many other personalised books available on-line all our books are hand-made.
The Life Celebration Book is a high quality hand stitched book that is guaranteed to last for many generations to come.
High quality parchment pages
Faux suede hardback cover
High quality textured end papers
Title pages with photo and name calligraphy
Calligraphy includes 35 characters, additional lines available upon request
16 memory pages printed with a hand-painted floral border & a printed calligraphy title "Your Memories"
Cover colours subject to change
Please enquire for details on any of our products and we will be happy to help.
Search
Information
Please enquire for details and we will be happy to help.
VAT is charged at the current rate of 20%
Leaflet Downloads
Open a pdf leaflet to print and browse at your leisure.

Adobe Reader download here
Social Media