Graduation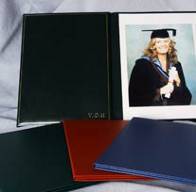 Recognition of a Special Achievement
A unique way to mark an outstanding achievement, this bespoke large triptych can be made with quality hardback covers in Book Cloth, Faux Suede or Genuine Leather.
Also available as a 2 panel folder.
Due to the highly damaging properties of plastic sleeves over time, these are designed to have the contents fixed to the liners with adhesive. The binders themselves provide protection to keep the contents in excellent condition.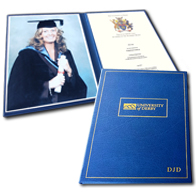 Each folder can feature...
Gold/silver initials on the cover
An optional institution Coat of Arms/Logo
A high quality reproduction of the graduation photograph.
A copy of the degree certificate
A narrative of the student's achievements hand written by expert calligraphers.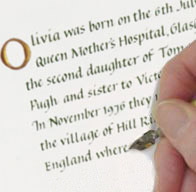 Hand Calligraphed Panel Options
There are 3 layout options for the student achievement panel.
Type A. Concise Achievements, the most recent qualification & upto 3 previous achievements
Type B. Detailed Achievements of achievements & course work
Please click the above links for sample images of folder types and achievement layouts.
Thesis & Dissertation Binding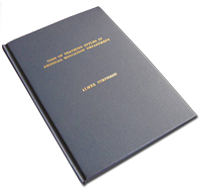 We provide a popular student dissertation and thesis binding service.
Each project is:
Professionally hand bound in quality materials
A4 sized
The project title and student name is tooled in gold on the front cover.
Hard or soft bound.
Pricing
We charge £40 for a soft cover and £50 for a hard back binding, copies are charged at £35 and £45 respectively.
The binding can usually be produced in 3 working days (+ 2days per additional copy) upon receipt of your printed pages.
A printing service maybe available upon request at additional cost of £35, if you wish to email the project to us at .
Please note: You are responsible for the layout of your printed pages, they are printed as received. PDF format preferred.
Please enquire for details and we will be happy to help.
Search
Information
VAT is charged at the current rate of 20%
Leaflet Downloads
Open a pdf leaflet to print and browse at your leisure.

Adobe Reader download here
Social Media