War Anniversary
We have produced many bespoke books and folders to memorialise and commemorate the fallen of past and current conflicts. Please interact with the slide show to the left (click to enlarge).
Genuine Leather Memorial Books
Genuine Leather World War II Diary
World War Roll of Honour
Paperback Boer War Diary
Military Achievement Folder
Flat Bed Memorials
Please enquire for details and we will be happy to help.
Military Achievements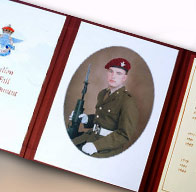 Our bespoke large triptych military service records use premium quality paper and covering materials, including split skin genuine leather, each contain:
A high quality photograph
A copy of the serviceman or woman's regiment
Corps badge and title
A narrative of their achievements
Additional Options include:
Personalised 23 carat Gold initials
Internal memento pocket
Gold detailing to outer binding
Folder Formats
Type A: A concise list of Service Achievements
Type B: A detailed list of achievements or service biography
Type C: A personal history from birth to enlistment, inc. service achievements
Each folder is handmade and calligraphically inscribed. The deluxe version can have raised gold initials throughout the text.
For now please enquire for details and we will be happy to help.
Military Commissions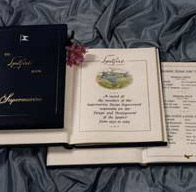 With employees from each branch of the armed forces it became inevitable that we would be commissioned to produce works for each.
Previous clients include:
The Queens Lancs
The Royal Army Medical Corps 202 Field Reg
HMS Forward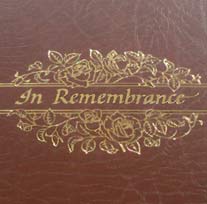 Our varied range of commemorative books in this area ranges from:
Our standard commemoration book
Special VIP Visitors books
Regimental/Corps Histories
Regimental Battle Honours
Regimental Books of Remembrance
Regimental Scrapbooks
Please see our Bespoke Books, Scrolls, Condolence Books and other related items on our product pages for more information.
Search
Information
VAT is charged at the current rate of 20%
Leaflet Downloads
Open a pdf leaflet to print and browse at your leisure.

Adobe Reader download here
Social Media